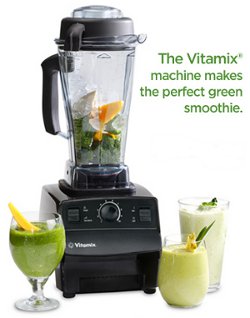 We at PerfectSmoothie.com get literally hundreds of questions and comments about Vitamix blenders. To help anyone who may be considering the purchase of a Vitamix blender, we've consolidated all of our Vitamix reviews into one place. (updated for Spring 2014)
We guarantee you that if you read this article you'll save significant time, money, and energy. We've summarized the pros and cons of the top 3 "best of bread" Vitamix blenders. Additionally, we've collected the most helpful reviews and feedback from our readers, both positive and negative.
BONUS TIP: For anyone considering the purchase of a Vitamix blender, the absolute cheapest way to purchase is from their fully certified reconditioned models which up up to half off, and have a 30 day risk-free trial, and several other great benefits...
Before we highlight the reviews of each individual blender, we'd like to point out the unique benefits (and drawbacks) common to every Vitamix blender:
7 Key Benefits of all Vitamix Blenders
1.) Risk-Free Trial: Vitamix is so certain that you'll see the immediate benefits from owning a Vitamix blender that they'll give you a risk-free 30 day in-home trial. Basically, you can try it out and send it back for a full refund. Vitamix will even pay for the return shipping!
2.) 7 Year Warranty: Not only do all new Vitamix blenders come with a 7 year warranty on all parts, including the blender base, motor, and container, they don't require any separate registration for the warranty. Once you've bought your blender you're automatically covered; your warranty is tied to the serial number on the bottom of your blender base.

3.) Tamper: The tamper is an ingenious device patented by Vitamix that serves two important functions, and is what gives Vitamix the serious edge over other blenders. First, the tamper allows you to easily blend both frozen and whole uncut ingredients by manually pushing them down into the blade. This saves you significant time and money.
Second, the tamper prevents the forming of air pockets while blending (the technical term for this is "cavitation"). Whereas with most blenders you'd need to power them off and either shake the container or manually remove the air pocket with a spoon, the tamper allows you to do this while the blender is running, further saving lots of time. Because no other blender has this device, this is a very strong selling point unique to Vitamix.
4.) Bonus Recipe Book & DVD: With every blender purchase Vitamix gives you a recipe book with hundreds of recipes for smoothies, soups, bread, butters, dips, and dozens of other great things. They also have a demo DVD showing you exactly how to use and clean the blender.
6.) Certified Reconditioned Blenders: For those that want a Vitamix blender at a great discount, Vitamix offers fully certified reconditioned models that come with a 5 year warranty on all parts. The certified reconditioned blenders are either lightly used demonstration models or returns. Because they come with brand new containers and accessories, the only difference between the reconditioned and the new blenders is that the motor base has been slightly used.
Because the blender bases have such a great construction quality and can be used literally every day for years, there is practically no difference between thes reconditioned and new models, which means when you buy a certified reconditioned blender you're getting the same blender for roughly 30% less.
7.) Community: One strong indicator that Vitamix makes great products is the huge community of blender owners that both discuss Vitamix products and provide free tips and recipes on various websites. There are literally thousands of free recipes for Vitamix blenders on the web. Join the Vitamix community, and you'll never run out of ideas for things to make with your blender.
4 Drawbacks of Vitamix Blenders
1.) Price: A Vitamix blender isn't cheap. If you were to make a smoothie at home every day for just 3 months, instead of spending 5 bucks for a large smoothie at Jamba Juice, you would save $450. That is the exact cost of a Vitamix 5200.
If you plan to make smoothies long term a Vitamix blender is a great investment and will pay for itself quickly. If you only plan to use the blender occasionally then getting something cheaper may make more sense. Alternatively you could always test it out for 30 days via the risk-free trial.
Tip: One way to help alleviate the price concern is to purchase a certified reconditioned model, which is about 30% less than the equivalent new model.
2.) Noise: Many people are surprised by how loud a Vitamix blender is after first time use. Because Vitamix blender motors produces upwards of 2 Horsepower, they are going to be loud. However, they are also the most powerful home blenders on the market.
If you live somewhere where the loud noise may disturb others, this may be a problem. The next generation of Vitamix blenders are the 7500 and 750 models, and they are reported to be slightly quieter than the larger 5200 model.
3.) Counter Height & Appearance: The height of the Vitamix 5200 model with the container is 20.5 inches. Because of this it won't fit under most kitchen cabinets unless you remove the container. Removing the container and setting it on the counter to store takes about a second. However, there are some people that prefer to have the full assembled blender under the counter, and that is one reason that people have historically chosen the Blendtec Total Blender instead of the Vitamix 5200. The former is is 15.5 inches and fits snugly under most kitchen cabinets.
Vitamix has remedied this concern with their 7500 and 750 models, which are their next generation blenders. These have a more compact blender base as well as a stouter, wider container. The aesthetics of the new models are also much sleeker and sexier looking than the boxier 5200, and that is one reason people prefer the next generation 7500 and 750 models.
4.) No Pre-programmed Settings: Another reason people choose to buy a Blendtec blender over a Vitamix 5200 is that the Blendtec blender has built in electronics providing pre-programmed blending cycles. The Vitamix 5200 has a simple manual speed control knob that many people prefer and find easier to use.
For those looking for the pre-programmed cycles Vitamix has remedied this by adding this functionality to their next generation 750 model. The Vitamix 750 has both the elegant and simple manual speed control combined with pre-programmed settings for smoothies, frozen dessert, soup, and purée recipes.
Vitamix 5200 Reviews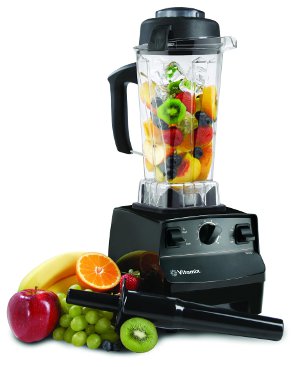 The Vitamix 5200 blender is the #1 selling Vitamix blender. Also featured in our best blenders for smoothies article, this blender gets our top overall pick for "best smoothie blender".
What our readers say...
The Pros:
"I've been using my Vitamix 5200 five days a week for the last few months and all I can say is that this blender is amazing. The unexpected surprise was how good vegetables taste when mixed with fruit in a smoothie. My goal has been to improve my health through eating better, and my Vitamix has been the cornerstone of my success." Mark R. - Jacksonville, FL
"We bought our Vitamix 5200 6 months ago. Since getting this blender my family has significantly increased our consumption of fruits and vegetables. We now start off most mornings with a smoothie. In just under 10 minutes I can have smoothies made, poured into cups, and everything cleaned up and ready to go for the next day." Cynthia L. - Annapolis, Maryland
"After reading lots of Vitamix reviews I upgraded to the Vitamix 5200 after my Kitchenaid blender stopped working. The difference is incredible. With the use of the tamper I've switched to using frozen ingredients in pre-made "smoothie bags" and I've cut the time it takes to make smoothies considerably. I'm now able to eat more green vegetables as well as an extra 30 grams of protein in the mornings which has helped with my training regimen." - Jason D. Mesa, AZ
"To save money we got the Reconditioned 5200 blender. The DVD and recipe book that came with it are top notch. After 4 years of frequent use our Vitamix is still going strong, and we couldn't live without it!" Matt P. San Francisco, CA
The Cons:
"This blender is great in terms of being able to blend basically anything. My and my husband's health has improved since getting our Vitamix. The motor is incredibly loud though. Because of this I can't use the blender early in the mornings or I'll wake up my husband and kids." - Tracy L. Portland, OR
"... our Vitamix was expensive but turned out to be a great investment. The only disadvantage is that the standard container is too tall to fit under our cabinets, so we had to pay extra for the shorter 32 ounce container. I wish they'd let you get the smaller one instead of the normal 64 ounce without having to pay more. Even when we make 1-2 servings, the smaller container is all we ever need and is much easier to clean than the larger one that comes standard." - Kristy E. Dallas, TX
Conclusion
With a price point of $450 this is the least expensive of the three top Vitamix blenders and is in our opinion the best value. If your goal is improve your health while saving time and money you can't go wrong with the Vitamix 5200. This is the only blender in this price category that comes with the tamper and allows you to blend frozen and whole uncut fruits and vegetables.
"Next Generation" Vitamix 7500 Reviews
The Vitamix 7500 is part of the next generation of blenders from Vitamix. It boasts a quieter motor and more modern and sexy design than the 5200 model. With its stouter, wider container it can fit nicely under most kitchen cabinets. If you want the great usability of the 5200 and are willing to pay a little more for these extras this is a great blender.
What our readers say...
The Pros:
"I've owned several blenders and spent a couple months researching my new purchase. The Vitamix 7500 was the best model I could find that included the best of every blender feature out there, including the Vitamix tamper. The fact that it fits under the counter and looks great to boot is a nice bonus." Mark - Provo, UT
The Cons:
"After giving away my 5200 blender to a family member I wanted to experience the newest and best Vitamix model so I splurged for the 7500. This was about 100 bucks more than the original 5200, and basically what you get for that is something that looks nicer and fits under the counter. Unless you have extra money to spend this blender does the same thing as the 5200, and you're just paying more for the look and style." - Matt D. Phoenix, AZ
"I've had the 7500 now for about 4 months. I've been using it practically every day to make smoothies and have also tried some of the extra recipes included in the Vitamix guide including the recipe for tortilla soup. I didn't really like the way soup tasted as it has way too much air inside the liquid and doesn't taste like normal soup. I also don't think this blender is any quieter than the 5200 model as it basically just seems to have a lower more muffled pitch." Gordon R. San Diego, CA
Conclusion
If you want the most modern and sexy Vitamix blender with the next generation technology this is a great blender. If you plan to use the blender for yourself and your family, and don't plan to make more than 5 smoothies a day or host large parties, then the preset functionality included with the more expensive professional series 750 model isn't really necessary, and the 7500 should be perfect for your needs. At a price point of $559, this blender is a great buy.
"Next Generation" Vitamix 750 Reviews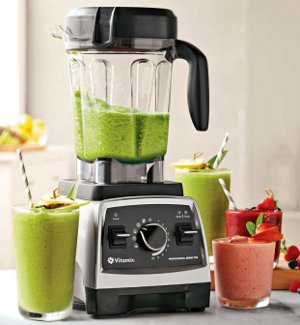 The Vitamix 750 is the next generation of the technology with the added feature of five pre-programmed settings to enable simple cleaning, walk-away convenience, and consistent results for smoothies, frozen desserts, soups, and purée recipes.
What our readers say...
The Pros:
"I must have researched over a dozen different blenders and I am extremely happy that I chose the Vitamix 750. This has the best design and with the wider blade it can make smoothies as well as juices. I don't really need anything else. I paid more for the pre-settings and these have been a lifesaver since I can turn it on and walk away while multi-tasking in the kitchen every morning. The pre-programmed cycles are definitely worth it if you have other things to do and like multi-tasking." Marci - Charlotte, NC
The Cons:
"We shopped around for a couple months for a new blender, which is recommended when paying this much. We were torn between the 7500 and 750 models, and decided to get the 7500 model. The presets on the 750 aren't really that necessary, and actually reduce the ease of use with the dial control since it turns over half the distance in the 750 (compared to the 7500) in order to accommodate the preset settings, which reduce the granularity of the controls. We don't see a need for the presets since everything can be done quite easily manually."
Conclusion
With a price point of $689 this is the creme de la creme of Vitamix and the best home blender that money can buy. If you want the newest technology combined with the luxury of the pre-programmed settings then the Vitamix 750 is the blender for you.
If you have any suggestions, corrections, improvements, or would like to us to add your feedback (positive or negative) to our Vitamix reviews, please let us know!