Our Blendtec Promo Code for free shipping is up to date for today: December 21st, 2014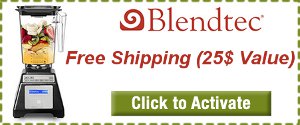 We at PerfectSmoothie.com are pleased to extend a promotional discount offer given to us by Blendtec for FREE SHIPPING (worth $25/35 CAN). This is the absolute maximum discount available among all free shipping promo codes and also includes a free instructional book with over 100 recipes!
*IMPORTANT: To get the free shipping you don't actually need to enter in a code, you just need to follow these simple steps:
How to use the Blendtec promo code:
First you must visit the Blendtec website from this link. *Important: Even if you already have another open browser window with your products already in the checkout page, you still have to click a link on this page in order to activate the free shipping.
Next, once you are at the checkout page you need to enter your zip code into the field on the right labeled "Zip Code". (you can leave all the other fields blank)
Move your cursor or mouse anywhere else on the page you will see "calculating shipping" appear next to the Total Shipping dropdown field.
From the shipping dropdown box you can then choose the option that says "Ground - $0.00" (or up to 25$ off depending on the total shipping cost if over this amount)
Then complete the rest of the form and click "Make Purchase" at the bottom of the form, and enjoy your new Blendtec blender!
Order Now Online! (use this link to visit the Blendtec website, then when purchasing follow the above promo code steps for $25 reduced shipping)

When purchasing a Blendtec product with our promo code you will receive the following great features and benefits:
Risk-free Purchase! All Blendtec blenders come with a "Risk Free" in home 30 day trial.
Extended Warranty - Blendtec provides a lifetime warranty on the coupling and blade and a 7 year warranty on all other parts.
Free Recipe Book - All Blendtec blenders come with a free recipe book with over 100 recipes for making sauces, soup, smoothies, fresh juice, ice cream, milk shakes, cappucinos, margaritas, bread dough, dressings, salsa, and much more!
Commercial Quality - Blendtec blenders have a commercial quality 1500 Watt 3 horsepower motor that can process virtually any food. Blendtec's blenders produce similar quality smoothies and frappucinos to that of restaurants restaurant chains like Starbucks and Jamba Juice. Imagine the money and time you will save!
All in One Kitchen Appliance - The Blendtec all-in-one blenders replace up to nine kitchen appliances including a juicer, grain mill, bread maker, ice-cream maker, smoothie maker, milkshake maker, coffee grinder, and ice crusher...
Great Customer Service - Blendtec is one of the fastest growing companies in the US due to their great reputation for selling quality blenders as well as having top rated customer service. Their website also has a plethora of free useful tips and owner's manual giving expert advice on how to care for their products.
Smart Touch Technology - Blendtec's blenders come with the precision and power of their exclusive "Smart Touch" Technology which automatically speeds up and slows down depending the specific cycle you choose.
Go for it! We encourage you to give Blendtec a try and take advantage of our up to date blendtec promo code 2014. Using a Blendtec blender is a great way to make eating healthy convenient, fast, and fun. You will truly transform your health.
Questions about how to use blendtec promo codeso? - If you have any questions about using a blendtec promo code you can get assistance while placing your order by using the live chat support from the Blendtec website.