Are you looking to buy a new smoothie blender? READ THIS FIRST!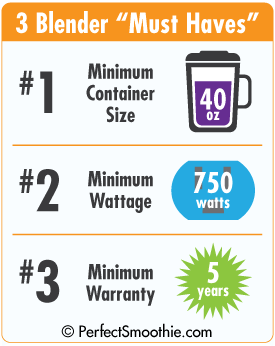 We've spent years cultivating the most thoroughly researched guide to choosing the best blender for smoothies.
We don't recommend the most expensive blenders, just the ones that work the best based on our experience making smoothies daily for over 15 years, using every type of ingredient and preparation method possible.
Our Methodology
Our team has created 3 "must have" criteria that any blender should have if it is going to successfully enable someone to make smoothies every day. Based on these criteria we'll show which blender we recommend as the best, as well as the alternative options in both higher and lower price categories.
Surprisingly. the majority of top-selling blenders from Amazon.com and review sites like Consumer Reports, Good Housekeeping, and CNET are not recommended for making smoothies. After reading this article you'll not only know what the best smoothie blenders are, but more importantly WHY.
3 "Must Have" Smoothie Blender Requirements
If your goal is to make smoothies daily to significantly improve your health (and believe us will it ever), then these are the absolute must have things to look for.
Must Have #1 - Minimum 40 oz Container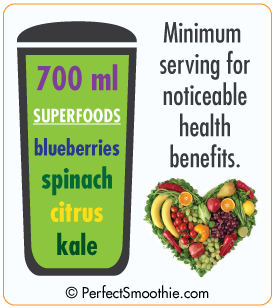 Even with nutrient-dense super foods like spinach, kale, and blueberries, you'll need to moderately pack a 40oz (1.18 Liter) blender container to yield a 700 ml smoothie serving. This serving size yields a portion that has at least 100% of the daily recommended amounts of Vitamins A and C, as well as significant quantities of other important health promoting micro-nutrients and phytochemicals. This blender container size will also yield a portion that is equal to about 500 calories or more, roughly that of a meal.
Based on our experience, and those of our readers, this is the appropriate minimum daily serving size to notice significant health benefits from a smoothie. If your blender container is smaller than 40 oz you'll have to either go through the entire blending process twice, or repeatedly blend, stop, repack, blend, etc. We've found that having to do this will over time prevent people from making smoothies regularly as it is too much work. *details of micro-nutrient calculation included at end of article.
Must Have #2 - Minimum 750 Watts
Any blender with less than 750 Watts of power won't have enough power to blend a full 1.18liter (40oz) container. This is the absolute minimum amount of power you'll need to get the ingredients blended (and circulating properly) in a reasonable amount of time.
Additionally, this is also the necessary amount of power to effectively blend both chunks of ice as well as small nuts such as almonds so that the consistency will be completely smooth without leftover chunks.
Must Have #3 - Minimum 5 Year Warranty
A blender should offer no less than a 5 year warranty. Why 5 years? Based on our research any blender with a warranty under 5 years has an overwhelmingly high chance of breaking down if used daily to make smoothies.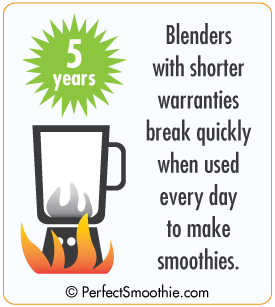 If you read the Amazon.com reviews for their best sellers and filter out only the reviews where people used the blenders to make smoothies daily and they did this over a long period, overwhelmingly, most look like this, (a review of the Ninja Professional Blender)
"We loved it until it stopped working, May 8, 2014 - By John Chirlin (Albany, NY USA) - ... We loved it until it failed this morning. We ordered it in early April and used it every morning to make our smoothies. Nothing crazy, just frozen fruit, yogurt and some other equally easy to blend items. It blended everything really well. This morning it simply stopped working...."
For blenders being used every day to make smoothies this happens way too often. Therefore, we STRONGLY recommend not buying from a manufacturer that warranties their blender for just one year, (such as Ninja, Nutri-Bullet, and KitchenAid), and even 3 years (such as Cuisinart or Hamilton Beach) as when used daily they aren't reliable.
The 5 Best Smoothie Blenders...
Some products may specifically market themselves as "smoothie blenders", "smoothie makers", or "smoothie machines", but they are all just basically blenders and have the same principal working parts.
We analyzed the top 50 most-sold and most-recommended blenders from Amazon, Consumer Reports, Good Housekeeping, and CNET and there are only 5 household blenders that meet our "must-have" criteria. *all sources included at end of article.
Disclaimer: We check regularly to update this page so that all links to manufacturer's pages have either free shipping and/or the lowest price.
(updated for August 2014)
#1 Top Pick: Vitamix 5200

Our Top Pick for "Best Smoothie Blender" is the The Vitamix 5200. This is our personal smoothie blender of choice and is the best overall value on the market. Because this blender handles frozen and whole uncut fruits with the use of Vitamix's patented tamper device, you don't have to mess around and waste any time. In fact, we guarantee that if you are making smoothies every day this blender will pay for itself in 3 months. This is a serious smoothie machine that should be looked at as a positive investment toward your health.

I use this blender to make smoothies every day with mostly frozen ingredients. With Vitamix's tamper device and a pre-made frozen "smoothie-bag" of ingredients I can make a smoothie in about 3 minutes from start to finish, including prep and cleanup time.

BEST VALUE: The cheapest way to buy the Vitamix 5200 (or any Vitamix blender) is from their certified refurbished inventory. The 5200 model is listed as the "Certified Reconditioned Standard" on their certified reconditioned inventory page, and if you can find one available you'll save almost $200 bucks!
#2 Runner Up: Blendtec Total Blender

The Blendtec Total Blender is also a very popular smoothie maker. One great feature of this blender is that it has a self timer which means you can start it up and it will turn off automatically when the blending cycle is finished. It will also auto-adjust if it needs more power to finish. It has a 1500 Watt motor, a futuristic electronic display, no knobs or dials, and includes a 40-ounce jar along with a book of over 100 recipes.



All new Blendtec blenders come with their patented "Wildside container" which adds an additional fifth side, helping to prevent the forming of an air vortex while blending. This eliminates the need for stopping and starting while blending a full container at high speeds.

BEST VALUE: Similarly to Vitamix, Blendtec also has a not commonly known about selection of certified refurbished machines which are basically the same as new and up to 40% cheaper than paying full price.
#3-5: Next Generations of Vitamix & Blendtec
Both Vitamix and Blendtec have "next generations" of blenders that have been on the market for less than 2 years. These are not our top recommendations because they are more expensive due to having extra features that aren't necessary for successfully making smoothies every day.
However, if you have no limit to your budget and want the absolute newest technology these are worth considering:
Vitamix 7500

Vitamix 7500 / Vitamix Professional Series 300: Vitamix's next generation boasts two main improvements over the previous 5200 model. The entire unit now is 17.5" tall and has a stouter container enabling it to fit under most standard counter tops. Additionally, the motor base has been redesigned to provide the same power output with 40% less noise emission.

Note: the 7500 and Professional Series 300 are the exact same blender, the only difference is that the latter costs $30 more and comes with a full-color hardbound "Create" cookbook with recipes from gourmet chefs and a tutorial DVD by Chef Micael Voltaggio)
Blendtec Designer Series Wildside

The Blendtec Designer Series boasts Blendtec's newest generation of technology. This includes a "direct-drive" motor shaft technology which gives the blender a 3-peak horsepower, as well as a new air-flow system which keeps the motor cooler during operation. Because of this, Blendtec now offers an 8 year warranty standard for this blender, as opposed to the previous 7 year standard.

This blender also includes pre-programmed cycles for smoothies, icea cream, whole juice, and hot soup. The noise rating for this is the same as the previous Total Blender design, so if the new look and programmable options are appealing to you that would be the reason to choose this blender.
Vitamix Professional Series 750

What blender would you buy if money was no object, and you wanted the best blender ever made? The Vitamix 750 would be your answer. In addition to the new generation of improvements included in the 7500 model, the Vitamix 750 boasts five pre-programmed settings for smoothies, hot soups, frozen desserts, purées, and auto-cleaning.

One of the reasons this blender is branded as "professional" is that the programmed settings are ideal for making large quantities and hands-free multi-tasking in the kitchen. If you don't mind paying an extra $200 dollars for this functionality then you won't be disappointed with this blender.
Lower Priced Blenders
If you are new to smoothie making it may be more cost effective to first try something less expensive to decide whether making smoothies regularly is right for you.
There are however several
important caveats
to be aware of when purchasing a lower priced blender, and the manufacturers themselves will never tell you this:
Not designed for daily use: Cheaper priced blenders are not designed to be used every day. Their warranties are typically limited to 1 year or less, and if used daily they usually last less than a year.
Blending takes longer: Because these blenders have lower-powered motors the blend cycles will always take significantly longer. You are also not guaranteed to always get a perfectly smooth consistency.
Extra Preparation Time: The reason we strongly prefer the Vitamix 5200 is that its patented tamper device allows you to virtually skip pre-cutting any ingredients. These lower-priced blenders require additional preparation time in that you have to cut up the fruit and vegetables into reasonably small sized pieces for them to blend properly.
Limited to mostly fresh ingredients: With a lower priced blender you will be limited to mostly fresh non-frozen ingredients. The lower priced motors aren't strong enough to blend a jar full of frozen contents. The downside is that fresh ingredients cost significantly more than frozen.
Extra cleaning steps: The last thing to be aware of is that none of the lower priced blenders come with the same sealed-blade assembly containers like the Vitamix or Blendtec. This means that after each use (per the manufacturers instructions) you'll have to disassemble the blade base and wash each component separately. This adds a significant amount of time to making smoothies and is why most people who make smoothies every day always end up getting a high-end blender.
Our Suggestion
Because none of the lower priced blenders meet our "must-have" criteria, we don't recommend using them to make smoothies every day. However, if you are wanting to try whether making smoothies is for you, then a cheaper way to go could be to buy a lower-priced blender.
If you do decide you want to stick with it, then a great way to save money is to send it back within the return policy window and upgrade to either a certified refurbished Vitamix or Blendtec. These aren't considerably more and will save you lots of time and money in the long run.
Breville Hemisphere Control Blender

The Breville BBL605XL Hemisphere Control Blender stands out among our best blenders for smoothies in the lower price category. Because Vitamix has a patent on their tamper device this has forced other manufacturers to find creative ways to improve the blending process using alternative engineering methods. The result is Breville's patented hemisphere blade system. This unique design forces larger ingredients towards the bottom of the cup shaped container. This blender has an elegant stainless steel body, an easy to use lcd timer for pre-programmed smoothie blending cycles, a 750 Watt motor, and a 6-cup co-polyester container that is dishwasher safe.

WHERE TO BUY: The Breville Hemisphere Blender is available with free shipping from Amazon.
Oster Beehive

The Oster Beehive is a classic looking stainless steel 500 Watt smoothie blender that can blend most non frozen items and looks fantastic on your counter with its retro beehive design. It's like a piece of art on your kitchen counter. It has a simple knob control with 2 speeds. The jar is made out of glass and is relatively easy to keep clean. We used this smoothie machine exclusively for about a year before upgrading to the Vitamix 5200 in order to blend frozen items and whole fruits to save time and money.

WHERE TO BUY: The Oster Beehive is also available with free shipping from Amazon.
The Nutri Bullet Blender/Mixer System

The Magic Bullet brand of smoothie blenders have bypassed the traditional upright jar and motor design and turned the concept of a blender on its head. The best feature about this blender is how there is relatively no cleanup as the small self contained jar is easily washed and produces just one or two servings. The most popular reason people purchase this blender is that it is very fast and easy to both use and clean. It comes with a lot of extra accessories which may be excessive if all you intend to do is make smoothies.

WHERE TO BUY: The cheapest and easiest way to buy one is through Amazon: Nutri Bullet 12-Piece Blender/Mixer System
Insights into our Review Methodology
Minimum Container Size Calculation
Based on our research the smoothie yield of a "moderately" packed container is approximately 75%, assuming you use about 1 cup of added liquid per 700 ml yielded serving.
Here is an illustration of three container sizes and the amount they would yield utilizing 1 cup of liquid per serving:
32 oz X .75 = 24 oz = 709 ml -> After the smoothie is poured, there will be less than 700ml actually consumed.
40 oz X .75 = 30oz = 880 ml -> Just right for to fill a standard 750 ml size Blender Bottle.
64 oz X .75 = 48 oz = 1419 ml -> This yields roughly less than two 700 ml servings, after the servings are poured.
Visual Demonstration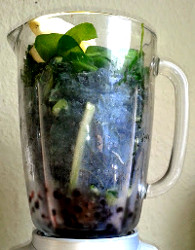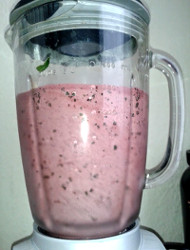 The first image shows a 2 Liter blender container filled to approximately 1600 ml and moderately packed with 1 cup of water. After 60 seconds of blending we see that the yield is approximately 1200 ml. The ratio in this case would be 1600 ml / 1200 ml = .75 yield, thus demonstrating the usefulness of this ratio as a good yield guideline.
The reason we have 40 oz as the minimum cut-off value is that a 32oz container yields almost exactly the recommended minimum portion size. The yield must be slightly greater to account for the portion of the smoothie that will stick to the inside of both the container after being poured, and to the inside of the drinking container being used.
The goal is to actually consume 700 ml worth of the smoothie, and to this end the 40 oz container is the absolute minimum size required. The standard size for smoothie drinking containers like the popular Blender Bottles are 750 ml. If you want to use these to drink your smoothies (which we recommend), then a 40oz container sized would create the perfect yield
Also note, 40 oz is the absolute minimum size container to yield just one optimal serving. If you plan to make more than one serving a fully packed 64oz container will yield roughly two 700 ml portions. This is the standard container size for both Vitamix and Blendtec, and we think this is a good sized container to have in case you ever make one than one portion at a time.
Minimum Serving for Optimal Nutrition
The ingredients we used in our above photos were as follows (we used a food scale for exact measurements):
1 cup (166 grams) frozen blueberries
40 grams frozen spinach
40 grams frozen kale
1 small lemon (73 grams)
2 regular sized bananas (177 grams)
4 Brazil nuts (14 grams)
1 small handful of almonds (20 grams)
1 cup hot water
1 scoop chocolate Gold Standard protein powder (32 grams)
The nutritional content for this recipe when creating a 700 ml (roughly 550 gram) smoothie serving is below. You'll see that even after using the most nutrient-dense foods available such as kale, spinach, and blueberries, we've still just barely gone over the 100% daily recommended amounts of Vitamins A & C. The almonds and brazil nuts in the recipe also contain rich amounts of Vitamin E not shown below.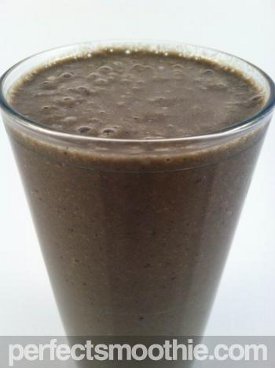 Nutrition Facts
Amount Per Serving
Vitamin A

133

%
•
Vitamin C

155

%
Calcium

20

%
•
Iron

23

%
How We Chose Our 5 Best Smoothie Blenders
The 5 blenders we recommend are a result of applying our 3 "must-have" smoothie-making criteria to the top 50 blenders of all four of the following organization's review and sales data: Good Housekeeping, Amazon, Consumer Reports, and CNET.
These organizations put a lot of effort into their testing and in several cases provide very useful insights. We'd like to thank them for providing these resources. For reference, the complete list of data we compiled can be found here.
The following analysis is not meant to criticize the testing methods of these organizations, rather, to highlight that the focus of their testing was not on which blenders most effectively allowed a consumer to make smoothies daily, over the long term, and for the maximum health benefit. Thus, we created our extra layer of "must-have" requirements to filter through their ratings.
Good Housekeeping Methodology
Good Housekeeping used 16 main testing criteria for rating their blenders, the most important of these include: "Ability to grind coffee beans, ability to chop onions, ability to prepare a smoothie, ability to prepare a frozen margarita, ease of using the controls... ease of assembling blade parts... how easy they were to clean, results of dishwasher cleaning, loudness, and stain resistance."
Analysis: Grinding coffee beans isn't necessary for smoothie-making, but is a useful test in determining a blender's ability to completely blend small hard items such as ice cubes and nuts. These are both necessary for smoothie making, thus, this a useful criterion.
We also like that Good Housekeeping called the customer support number for all the manufacturers they tested, and factored in average wait times for usability and warranty questions. Thus, the top blenders on their list also have fast customer service response times.
Conclusion: Good Housekeeping has a thorough testing process. There is, however, no mention of the types of smoothie recipes they tested, the yield of the recipes, and a breakdown of fresh vs frozen ingredients. As the ability to blend a full container with partially frozen or mostly frozen ingredients is key to smoothie making, we would like to see these criteria added and more detail shown.
Source: http://www.goodhousekeeping.com/product-reviews/appliances/blender-reviews/best-blenders-reviews-testing
Consumer Reports Methodology
Consumer Reports doesn't include a detailed breakdown of their process, but just a short description of tests. These included testing the smoothness of blended ice drinks using sieves, judging ease of cleaning and replacing the blade, ability to puree soup, how well the blender can crush 7 ice cubes without water, noise emission at maximum speed, functionality of blender after completing a durability test of crushing ice 45 times, and overall weight of jar, base, and lid."
Analysis: They do have a test specifically for testing the results of blending smoothies in an objective way using a sieve, which is a good indicator of how well a blender effectively blends harder items such as ice cubes.
Also noteworthy about their testing, if a product breaks down during testing will buy and test 2 more of the same machine, and won't report the first failure unless it is repeated. Thus, if a product has a statistical 33% failure rate per their tests they don't disclose this. Because of the high failure rate of low-priced blenders we believe this information should be disclosed as it would most likely improve market quality of lower-priced blenders, which at the moment is severely lacking.
Conclusion: Similarly to our last conclusion, there is no description of the types of ingredients they tested during the smoothie making process. We would like to see recipe yield, recipe composition, and breakdown of fresh vs frozen ingredients, including testing hard non-ice items such as coffee beans or nuts.
Source: http://www.consumerreports.org/cro/about-us/whats-behind-the-ratings/testing/appliances-home/index.htm
CNET Methodology
CNET picked 7 popular blenders to review and has each review broken down into six basic sections: design, usability, features, performance, care and maintenance, and a conclusion. We couldn't find any explanation as to why these 7 specific blenders were chosen.
Analysis: We like the fact that they tested performance of each blender making smoothies. They rated each blender on a bar chart with a two decimal point precision estimating the "smoothess" of the smoothie yield.
We couldn't find any explanation as to how this measurement was taken, how it could be so precise, and how all blenders tested, both low and high priced, could have "smoothness" results so close together. Here is a quote from one of the reviews:
"The Breville and the Vitamix blenders performed equally well; all three yielded a "smoothness" percentage of 98.46. That basically means that there weren't any bits of fruit left over after the smoothie cycle had finished... "
Conclusion: Similar to the other organizations, we would like to see the exact recipes they used for all these tests, including a breakdown of fresh and frozen ingredients.
Source: http://www.cnet.com/news/from-smoothies-to-pesto-seven-blenders-reviewed/
Amazon Reviews & Minimum Warranty Calculation
In addition to filtering through the results of the top reviewing organizations we also added in the blenders that we know people are buying. People purchasing blenders on Amazon acts as a vote of confidence in some degree as they are spending money.
A great thing about Amazon is that you can see real reviews from people after they've used the product, both good and bad. What this allowed us to do was to search through all the reviews and see how long they actually owned the product before posting the review.
We parsed through every review and isolated out the review data where the reviews explicitly stated they were using the blenders to make smoothies every day, and had done this for a reasonable amount of time (6 months to 1 year). For the reviews meeting this criteria the blenders with warranties less than 5 years disproportionately had problems. These include a leaky base, burned out motor, broke parts, and electronic programs and components that malfunction.
Another interesting thing about Amazon is that the 5 star reviews are on average disproportionally short, without detail of usage. The 1 start reviews are often disproportionally detailed, like this review of the Breville Hemisphere blender:
"By Ralph Runyon (Princeton, NJ United States) - This review is for the Breville BBL605XL Hemisphere Control Blender (Kitchen) I am on my third Hemisphere Control... Boy do I wish I had sprung for the Vita Mix. The first one started leaking at the base a month after receiving it and Breville replaced the whole unit. The second had both a motor failure and two of the tabs on the base that engage the safety switch broke off. We will see how this third one holds up, but as raw foodist that blend smoothies and other raw food continually it just doesn't hold up. Spend your money on the vita mix! This is an amendment to my previous review. When we returned from vacation on June 8th 2013 the third replacement was waiting for us. Today, July 4th, less than a month later it has again failed. I would highly discourage anyone who plans on using their blender frequently to stay away from this blender!"
Final Thoughts & Feedback
You'll never know how much time and money purchasing a high-end blender will save until you test one. Whatever blender you decide to buy, the "best blender for smoothies" for you is going to be the one that makes smoothie making easy enough such that you use it every day.
Thank you so much for reading our review. Our goal is to provide the most thorough point of research and data collection for the best smoothie blenders. If you have any suggestions for updates or corrections please don't hesitate to contact us.