The goal of Lesson #2 is to teach you the most cost-effective and time-efficient way to make smoothies every day. You will be amazed at how much time and money you will save.
We'll cover everything from how to shop, the best way to prepare ingredients, as well as how to blend and minimize clean-up time.
This will be complemented by Lesson #3, which will show you an ingenious way to make a smoothie in 3 minutes or less, from preparation to clean-up.
The 5 Most Effective Tips for Saving Time & Money
Here are the 5 ways you will significantly reduce the time and money you spend on making smoothies.
Tip 1.) Buy Frozen
Frozen fruit and vegetables from the grocery store typically cost up to 30% less per ounce than they do fresh.
Another significant savings from frozen ingredients is that they require absolutely no peeling, cutting, or washing since this has already been done. There is also no risk of them getting moldy or going bad. You will quickly see how much time and energy you will save by buying frozen.
Both the FDA and the IFIC (International Food Information Council) claim frozen fruits and vegetables have the same or a slightly higher nutritional value since they are picked at the peak of freshness. This contrasts to fresh produce, which is picked well before it fully ripens so that it is able to have a longer shelf life.
Tip 2.) Buy in Bulk
On top of all the benefits that buying frozen provides, you can lower your costs a further 10 - 40% by buying them from a warehouse club like Costco or Sam's Club. We strongly recommend getting a membership to one of these stores if you plan to make smoothies every day.
In addition to being cheaper, if you buy ingredients in bulk you can actually cut your number of smoothie-related shopping trips down to about one per month. If your freezer is large enough you could even shop less often, depending on how much you buy.
Tip 3.) The "Smoothie Bag" Method
The "Smoothie Bag Method" is an amazing time-saving technique that we developed to front load all of the preparation time. This takes less than 15 minutes per week and allows you to prepare all of your smoothie ingredients ahead of time for the entire week, so the actual time you spend per day to make smoothies should be about 3 minutes or less.
The way this method works is by taking one resealable plastic bag for each smoothie you plan to make and adding the pre-measured ingredients into each bag. Below is a sample recipe we will use to demonstrate the preparation technique. The recipe and its health benefits will be discussed in more detail in Lesson #4.
Optimum Health Smoothie Recipe:
1 cup frozen spinach leaves (or any greens mixture)
1/2 cup frozen broccoli
1/2 cup frozen mixed berries
1/2 frozen banana
1 cup water
1/4 cup walnuts
1 scoop chocolate protein powder (25 grams)
The first four ingredients constitute the fruits and vegetables and will be prepared using our method. The remaining ingredients require practically no preparation time. Here are the steps to prepare the bags:
1. Place one bag on the counter for each smoothie you intend to make that week.
2. Measure the quantity of the first ingredient and place this in every bag in an assembly line fashion.
3. Proceed to the next ingredient and add that to each bag, continuing until you've added all the ingredients to each bag.
Once prepared the bags should look like this: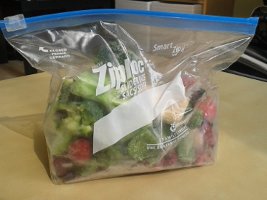 For reference, here are the bags we use. Because they have a zipper we've found they are the easiest to close, and you can get a virtual lifetime supply for around $25.
After the bags are filled you can simply zip them and put them in the freezer. If you plan to vary your ingredients from one day to the next you can mark a weekday or some other unique identifier onto each bag with a marker so that you know which bag to use.
We will demonstrate using these bags to make the sample recipe in Lesson #3. After each bag is used it can be placed back into the freezer until all the bags are empty. This saves time, keeps them fresh, and prevents any remaining small pieces from going bad. Once all the bags are empty they can be taken out and used again for the next cycle of batch preparation.
Tip 4.) High End Blender
One caveat of the Smoothie Bag Method is that it assumes your blender can handle all frozen ingredients. Many less expensive blenders can't blend all frozen ingredients. In order to utilize this technique we strongly recommend you consider getting one of our recommended best blenders for smoothies.
We have used and tested over 10 different blenders and the Vitamix 5200 is the blender we recommend and use every day. This is the only blender with a patented tamper device, allowing you to push frozen and whole uncut ingredients directly into the blade. This blender allows you to blend a smoothie with all frozen ingredients in less than a minute.
If you are making smoothies every day this blender will pay for itself in months. If you are interested in buying a Vitamix 5200, the cheapest way is to use this vitamix promotion code for free shipping.
Tip 5.) Quick Clean-Up
If you are using the Smoothie Bag Method to batch prepare the frozen ingredients along with a high end blender, the last part of the puzzle is to minimize clean-up time. A common belief is that you have to perform a lengthy cleaning of your blender after each use.
With a high-end blender, this isn't actually necessary. After each normal use you can rinse the blender container with water and a brush for just a few seconds to remove any residue sticking on the sides of the container and near the blade. Then the container can simply be set on the counter upside down to air dry.
This easy clean-up can be done with the Vitamix 5200 because the blade is sealed into the container, with no way for the liquid to seep out. With lower priced blenders, however, they use rubber washers and a screw-on blade housing.
The downside of this is that the liquid will seep through to the washer, and after each use you will need to unscrew, disassemble, and wash out the washer and the blade housing. This can be a huge pain, and with a Vitamix 5200 you can skip these steps, significantly shortening the clean-up process.
If you are using the Vitamix 5200 we recommend just once per week adding a few drops of dish soap into the blender container along with 3 cups of water and half a cup of vinegar and blending this on high for 30 seconds. We'll explain this process in more detail in Lesson #3.
We hope that you've enjoyed today's lesson and realize just how easy and inexpensive it can be to make a smoothie every day.
Thank you for reading. Don't miss our next lesson where we explain an amazing way to make a smoothie in just 3 minutes or less! (click on the link at the bottom of the page)
To your success...
Matt S. - PerfectSmoothie.com
BONUS TIP: Can you make an amazingly healthy smoothie from start to finish in 3 minutes? Including preparation and clean-up time? If not, check out our recommended best blenders for smoothies.