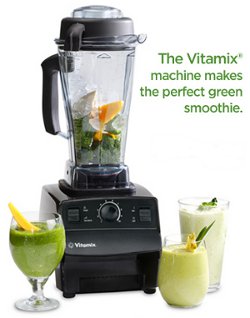 We at PerfectSmoothie.com have been experimenting with our Vitamix blender for many years and would like to share some of our very own favorite vitamix recipes for smoothies. All of these recipes for a vitamix blender can be found within our site in our smoothie recipes section.
The goal of this list is to both give you an idea of what types of smoothies you can make with your vitamix blender as well as to show off some of our favorite recipes. Now, on to our amazing Vitamix recipes for smoothies:
The Most Healthy Smoothie Recipe
This is the most healthy smoothie recipe have have ever made, and contains all the normal ingredients of a multi-vitamin!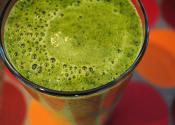 1 full scoop of vanilla protein powder (1/8 cup)
1 kiwi with skin
1/2 cup grapes
1 cup blueberries (preferably frozen)
4 strawberries (preferably frozen)
1 cup raw spinach
1 apple
4 cubes of ice (if you have enough frozen fruit you don't need ice)
Coffee Smoothie Recipe
Tired of paying so much every day to Starbucks? Save yourself 3 bucks with this quick recipes which tastes great, and is just another reason your Vitamix blender will pay for itself so quickly!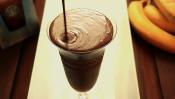 1 cup of coffee (choose any brand you prefer)
1/2 cup of soy milk (or dairy milk or Coffee Mate)
1 whole scoop of chocolate protein powder (1/8 cup)
1 banana (preferably frozen)
6 cubes of ice
Pumpkin Pie Smoothie
A great festive vitamix recipe, try making this at Thanksgiving instead of pumpking pie and your family will be pleasantly surprised!

1 cup of coffee (choose any brand you prefer)
1 cup of soy milk (or dairy milk)
1/2 scoop of vanilla protein powder (1/16 cup)
1 cup of canned pumpkin
1 teaspoon of cinnamon
1/4 teaspoon of ground nutmeg
1 tablespoon of brown sugar
6 cubes of ice
Tropical Rum Smoothie
Try this out on a Saturday night with friends during your outdoor grill and your neighbors will be impressed. A Vitamix blender will turn any normal alcoholic cocktail into something that tastes just like what the restaurants make!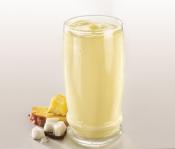 4 oz Coconut Rum
2 tablespoons whipped cream
3/4 cup pineapple juice
1 banana
1 peach
1 tablespoon honey
1 cup ice
There you have it. We hope that this small but varied sampling of vitamix recipes for smoothies will inspire you as to what is possible with your blender, and we hope that you check out the rest of our great smoothie recipes.
If you are considering the purchase of a vitamix blender then we recommend you check out our vitamix promotion code for free shipping, which is the cheapest way to buy any Vitamix blender.